Index investing is simple. Don't believe what bankers and financial advisors tell you. Anyone can learn how to invest in index funds (or ETFs / trackers). No you don't need your bank to do it for you (and charge unjustifiable fees) and yes you can learn to do it yourself.
Yes the idea of investing on your own might feel overwhelming at first, but that's how it is every time you learn something new. The problem with investing is that the financial industry wants us to believe it is complicated, because that is how they make money… not us.
In this article, I explain what is the basic process to invest in index funds, with the goal of removing some of the confusion and hopefully help very beginners make progress on their journey.
So here is a simple truth: to invest in index funds, you can simply buy shares of Exchange Traded Funds (ETFs) on a stock exchange via an online broker. You don't need to do this via a "regular" bank nor through a financial advisor. You can do this yourself.
4 steps to invest in index funds or ETFs
All you really need is a brokerage account, some savings (you can start efficiently with as little as 100 euros!) and the right foundational knowledge.
Here is how to invest in index funds / ETFs / trackers from Belgium:
Select and open an online brokerage account

This is an essential step to access index ETFs through stock exchanges

Fund your account

Once you have an account, you need to transfer some money to get started

Select the ETF(s) you want to invest in

You will select your ETFs based on criteria such as your investment philosophy, strategy and tax optimization approach

Place an order

Select the number of shares you want to buy and and place an order. You will want to use either a market order or a limit order with a higher price to make sure the order goes through smoothly.

Index investing process in the US vs Belgium
In the US, where index investing has been made very popular thanks to Vanguard and its founder Jack Bogle initially, index investing can be done by opening an account with mutual fund managers and simply buying into their index funds.
Unfortunately that is not possible in Belgium. Here we access index funds by buying the corresponding ETFs provided by the fund managers on stock exchanges. ETFs are basically like mutual funds but traded on the stock exchange like regular stocks. And just as we need a broker to buy stocks and shares, we also need a broker to invest in ETFs.
The process looks like this: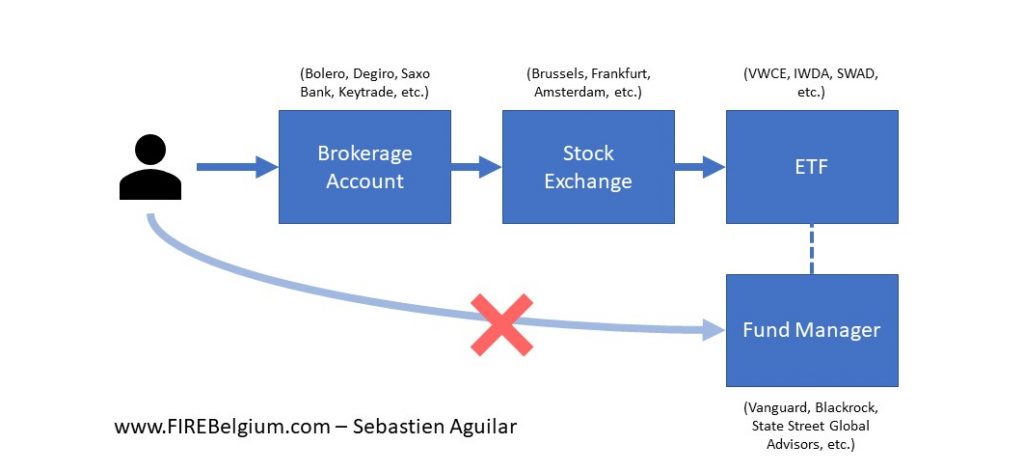 For example, let's imagine you want to invest in a Vanguard fund. In the US and a few other countries, you could simply contact them and open an account directly with them. But that is not possible in Belgium. To access Vanguard funds here, you need to open an account with a broker (and to keep costs low we will prefer online discount brokers such as Bolero, Saxo Bank (formerly Binck Bank), Keytrade, Degiro or Lynx).
Investing in index funds or ETFs is (almost) like buying sunglasses on Amazon
A broker is simply the intermediary between you and the index funds.
It is like creating an account on Amazon or any other online shopping website (with a bit more security of course as we're talking about your savings here, not just random gadgets :-)).
Once you have your account, you have access to various sellers (the stock exchanges: Brussels, Amsterdam, Frankfurt, etc.), through which you can buy various products (the ETFs) made by various manufacturers (the Fund Managers).
Imagine that you want to buy a pair of sunglasses (your ETFs).
You want them to provide good protection for your eyes so your main criteria is that the lenses are polarized (for your ETFs you will have specific criteria as well: low cost, widely diversified, domiciled in Ireland, etc.).
So you do your research and you find various polarized sunglasses from several brands (you can often find similar ETFs that match your main criteria from several Fund Managers).
In the end you compare the sunglasses and decide on a pair from Ray Ban that suit your needs (similarly you will do your research and select a specific ETF from a specific Fund Manager).
This is often a step we don't pay much attention to, but the sunglasses will be shipped by a seller, and we often have the choice between various sellers which can for example be located a different parts of the world (similarly we can buy ETFs from various stock exchanges, each with their own specific characteristics – transaction cost, bid-ask spread, etc.)
4 ways to get started with index investing
So, in summary, investing in index funds / ETFs / trackers is simple. Not quite as simple as buying sunglasses online of course, but the process isn't too different.
It goes without saying that investing carries serious risks and that it is essential to get the right foundational knowledge and guidance and get started very carefully so as to avoid costly mistakes.
There are 4 main ways to get started with index investing:
Full DIY, where the investor learns everything on their own.
DIY with coaching, where the investor benefits from the guidance and experience of a trusted expert.
Automated with a robo-advisor, where the investing is automated and managed by a third party for a fee.
Managed by a fee-only financial advisor, where more complex financial situations can be handled by a financial advisor for a higher fee.
Each of these approaches have pros and cons which I discuss in great details in this article.
Next step: learn the basics
I plan on writing a lot more about investing in index ETFs in the right way in future articles. In the meantime, I invite you to download the Beginner's Guide to Index Investing in which we cover my 10-step proven method to start investing with confidence from Belgium.
Here is an overview the of the 10 steps:
Mindset: Yes you can be an investor. Everyone can learn this simple and effective way of investing
Net worth: Where are you now?
Tracking: Where is your money going?
Financial goals: Where are you heading?
Safety first! Build an emergency fund
Optimize your finances: save more and better
Find the right balance for you: risk tolerance and asset allocation
Build your portfolio: select the right ETFs
Your roadmap: Write your personal investment plan
Action! Open a brokerage account and start investing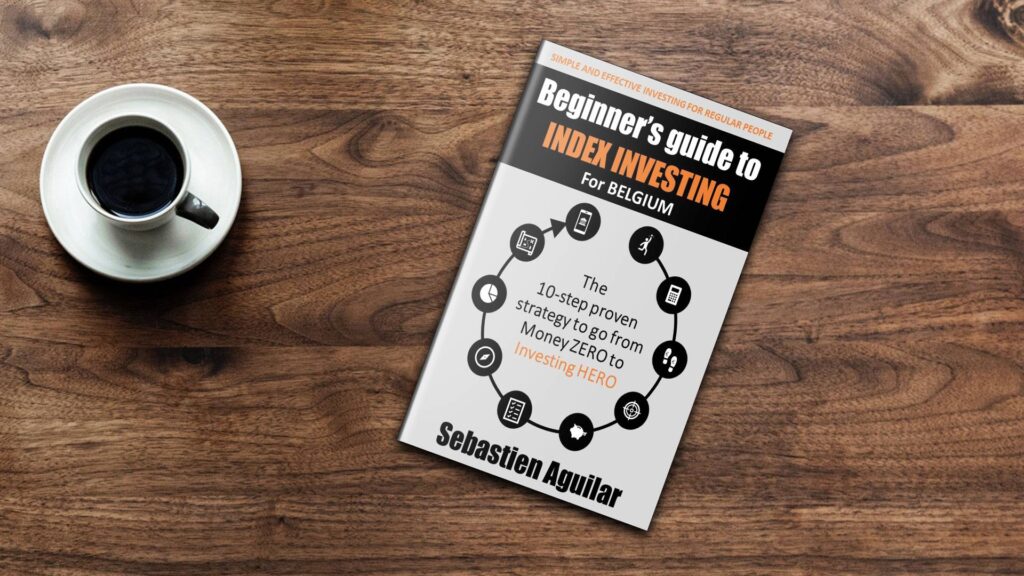 How to Invest in Index Funds (or ETFs / Trackers) from Belgium (2021)